ArcFlash Essentials Features
One-Line Creator
Create detailed electrical one-lines
Smart one-lines highlight problem areas
ANSI-standard/IEC symbols
Windows-compliant interface
User-defined colors, grid, text, fonts, and more
Create any type of power system
Intuitive toolbar with mouse-click simplicity
Drag and drop devices from extensive equipment palette
Panel schedules and motor control centers
Model, analyze and isolate potential hazardous conditions
Arc Flash Calculator
Calculates short-circuit currents
Flags over-dutied equipment
Determines arc duration based on PDC settings noted in a physical survey
Instant answers from proprietary algorithms
Detailed calculations and reports, compliant with NFPA 70E and OSHA
User-defined working distances, boundary parameters, and arcing current brackets
Arc Flash Labels | Create, Print, Store
Automatically prints ANSI Z535-compliant arc flash labels
Fully customizable label templates—any language, any graphic
Shows NFPA 70E flash boundaries, incident energies, PPE requirements, approach boundaries, and more
Direct output on high-quality UV-resistant vinyl labels to Brady and Dura-Label printers
Direct output to SafetyCal laser print labels
Multicolor printing
Energized Work Permits | Create, Print, Store
Create and print NFPA 70E-compliant energized work permits with built-in templates
Includes calculated flash hazard boundaries, incident energy, PPE requirements, shock hazard voltage, approach boundaries (limited, restricted, and prohibited)
NFPA 70E-compliant documentation in auto-generated Word documents
Link work permits to the right equipment and store on the one-line
User-Definable Work Permit Library
Extensive customizable library for hundreds of specific work tasks
Detailed job descriptions and safety procedures stored for each task
HRC substantiation
Determine voltage-rated gloves and tools
Hyperlink Documents to the One-Line | One Place, One Click
Store all important documents right on the one-line
Convenient mouse-click access for all plant personnel
Maintenance records, instruction manuals, lockout/tagout procedures, pictures, and more
Comply with regulations easily and quickly
Built-In Prompts | Identify, Review, Prepare
Identify potential hazards
Check job plans
Review steps to protect workers
Prepare for emergencies
ArcFlash Essentials also includes SmartBreaker™ and SmartDuty™.
ArcFlash Essentials Example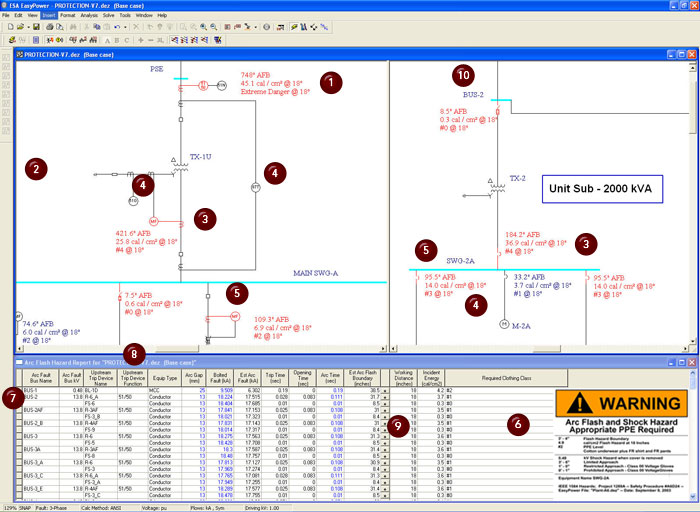 Includes the latest calculation standards for IEEE-1584 and NFPA 70E.
Model ANSI short-circuit calculations using momentary, interrupting, or 30-cycle currents for unmatched flexibility.
Automatically and correctly selects the fastest protective trip times, no matter how many protective devices.
Model differential, partial differential, arc flash sensing, zone interlocking, and other instantaneous sensing devices.
Display of bus-based or detailed arc flash values.
Direct output of ANSI Z535-compliant labels from spreadsheet to Brady and Dura-Label printers on UV resistant vinyl labels.
Detailed spreadsheet provides at-a-glance calculations: NFPA 70E flash boundaries, incident energies, PPE requirements, approach boundaries, and more.
Reports can include detailed let-through energy for all devices, worst-case bus or line-side values.
Reporting in English or metric units.
Click on any equipment to create NFPA 70E-compliant energized work permits with built-in templates; they automatically link to the selected equipment.
Try Before You Buy
Download a free evaluation copy today. It's the smartest, easiest way to decide!