EasyPower™ Arc Flash Solutions
Trust the Industry Leader for Ensuring Arc Flash Safety and Compliance
Thousands of companies have come to rely on EasyPower for developing sound and compliant arc flash programs. Given OSHA regulations and workplace safety concerns, it is now a top safety priority for many more in the industry.
Tap into EasyPower's easy-to-use ArcFlash™ solutions to complete and manage your arc flash initiative.
EasyPower ArcFlash Pro™ Bundle
Arc Flash | Design, Analyze and Comply
Get the most comprehensive productivity configuration for conducting arc flash analysis and ensuring full compliance with OSHA and NFPA 70E requirements. Whether you're designing electrical power systems, analyzing arc flash hazards, or implementing an electrical safety program, this is the software configuration for you. You can calculate results up to 800kV, with no additional cost.
Optional Features Included and Integrated
Tap into the power of the EasyPower ArcFlash Pro Bundle's fully integrated features in a single interface:
Included Features
The productivity-accelerating features below are included at no additional charge.
Module Configuration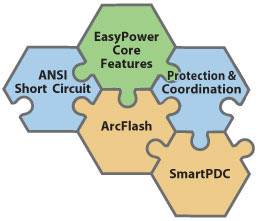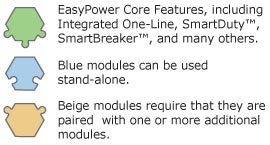 Bus Options
ArcFlash Pro™ Bundle is available in 50, 100, 300, 1000, 5000, and Unlimited bus configurations.
Try ArcFlash Pro Bundle Today
Try a free demo copy today. It's the smartest, easiest way to decide!
EasyPower ArcFlash Essentials™
Arc Flash Calculations and One-line Development | In a Flash
With many of the basic powerful features of EasyPower, ArcFlash Essentials is a great place to start. Quickly and easily create detailed one-line diagrams, perform arc flash hazard calculations, and maintain system and safety documentation—all in one place. ArcFlash Essentials does not include protective device cooridination capabilities, which is often used in an arc flash study. For this functionality, you would need to purchase the ArcFlash Pro Bundle or customize a bundle of modules that includes the Protection and Coordination module.
ArcFlash Essentials includes Premium Maintenance with 1-2 hours of one-on-one consulting time annually, as well as free hands-on and arc flash online training classes.
With unrivaled speed and simplicity, ArcFlash Essentials delivers robust tools to:
Improve plant safety
Comply with OSHA, NFPA, NEC, and ANSI regulations
Prevent costly fines and litigation
Print arc flash labels
Create energized work permits
Pinpoint danger areas and design effective solutions
Simplify documentation compliance
Save valuable time searching for documents
Increase equipment and system reliability
Enhance productivity
Prepare efficiently for emergencies
Reduce operating expenses and improve productivity
Bus Options
ArcFlash Pro™ Bundle is available in 50, 100, and 300 bus configurations.
Who Should Use ArcFlash Essentials?
At small to medium-sized commercial facilities, anyone charged with overseeing a plant's arc flash program will find it an invaluable weapon in the fight against electrical hazards. ArcFlash Essentials users include:
Electricians
Electrical contractors
Electrical engineers
Plant personnel
Note - ArcFlash Essentials is only available with annual subscription.
If you need tools for protective device coordination, consider upgrading to the EasyPower ArcFlash Pro Bundle.
Try ArcFlash Essentials Today
Try a free demo copy today. It's the smartest, easiest way to decide!