Coming Soon - EasyPower Change Management Software
EasyPower's Change Management module is the right tool for teams who manage changes to complex power system models. It offers a comprehensive change and review process where changes to the power system can be modeled, analyzed, requested, approved, and verified. Change Management enables teams to organize and manage changes to the electrical system in a traceable and controlled manner, greatly reducing the costs and risks of electrical system maintenance and upgrades.
Maintaining Complex Power Systems
Maintaining a large, complex power system that is constantly changing is a challenging job. Coordinating changes with a large team can be even more challenging. With Change Management, team members request changes to the system as they are needed and the changes are reviewed and approved or sent back for design changes. When the work is verified as complete, the one-line model is automatically updated, for all to see and access. Change Management makes the entire process easy and helps you keep the one-line model current so you maintain compliance with OSHA mandates to assess risks and keep workers safe. Individual roles can be defined, along with permission sets, by an admin user for the project.
Centralized Engineering Across Multiple Sites
Often, a centralized engineering team has the responsibility for supporting multiple sites. Change Management makes it easy for teams like this to manage changes to the power system. Workers at each site can model and request changes. Centralized engineering can review, analyze, and then approve or reject changes. This supports safe operation and modification of the system in a controlled and continuous manner, and eliminates the cost of periodic re-surveying of each site to update the electrical system model. There is also no more hunting for the latest file or trying to figure out what changed from the last one.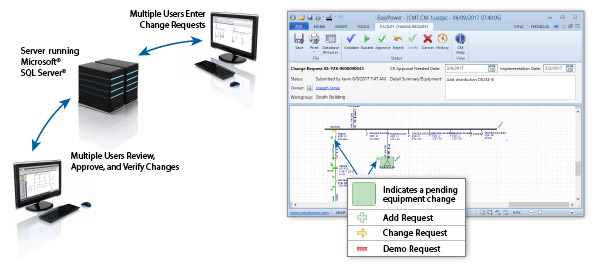 Advanced Search & Capabilities
Find available capacity across the system
Find available breakers
Future capacity and breaker reuse
Search for tools in a given proximity
Balance tools across the system
Feed multiple points of connection for the same tool from the same substation
Functions can be limited to appropriate users
Note - EasyPower Change Management requires SQL Database.
Coming Soon - EasyPower SQL Database
Scaling to Meet Team Needs
To facilitate multiple users creating and reviewing changes at the same time, we offer EasyPower SQL Database, which is built on a Microsoft® SQL Server® database. Placing the data in a SQL database hosted on a centralized server allows EasyPower customers to have coordinated access for multiple concurrent users. With concurrent access fully supported, conflicts between changes are easily detected before submission.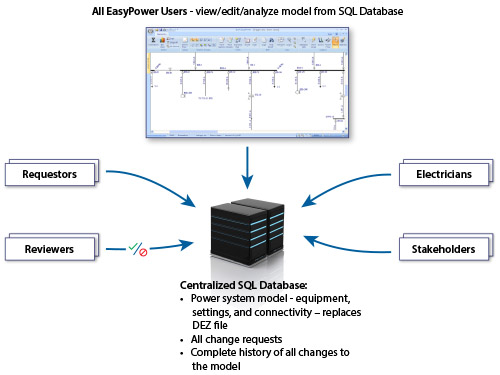 Find Out More
Contact us at sales@easypower.com or fill out the Contact Us page.