EasyPower 10.0 Update Release Notes
EasyPower LLC is excited to announce our release of EasyPower 10.0! This release includes new features and improvements to your EasyPower software.
The following are New & Enhanced Features in EasyPower 10.0:
To view a detailed list of changes and fixes, go to the 10.0 details page.
Details regarding EasyPower 10.0.2 - Service Pack 2 can be found here.
IEC-60909 in Short Circuit and Coordination
EasyPower's short circuit calculations now include expanded support for the IEC-60909 standard. There are new system options for IEC, new and improved IEC calculations, and new terminology that reflects the IEC standard. Equipment dialog boxes and reports have been modified to include new IEC fields. Support for IEC symbols has been enhanced using the new Custom Symbols feature described below. The Equipment Palette, Insert tab, one-line diagrams, and right-click context menu now display IEC symbols when the IEC symbol option is selected. Metric options have been expanded. See Short Circuit Reference (IEC) for more information on IEC short circuit analysis.
EasyPower's Coordination focus now supports integration with IEC Short Circuit. TCC plots and remote voltage and current calculations are now available. See Tutorial - Protective Device Coordination (IEC) for more information.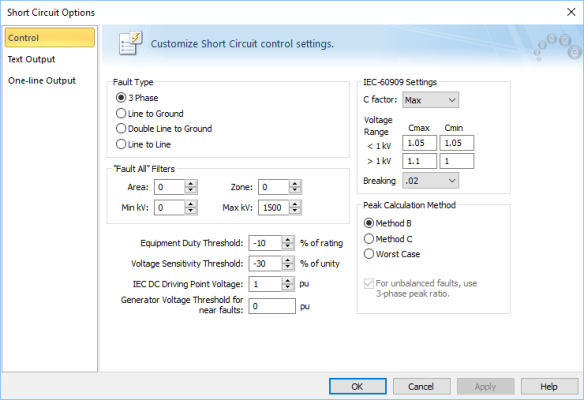 Figure 1-1: IEC Short Circuit Options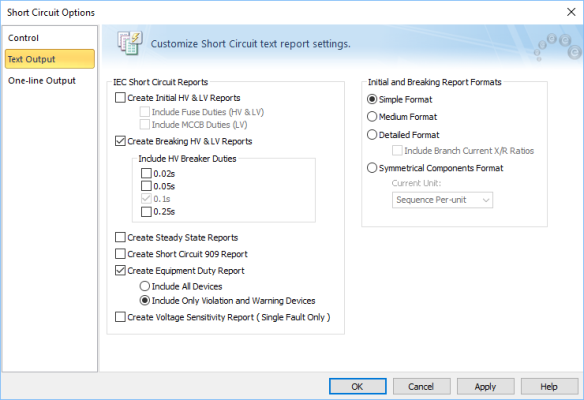 Figure 1-2: IEC Short Circuit Reports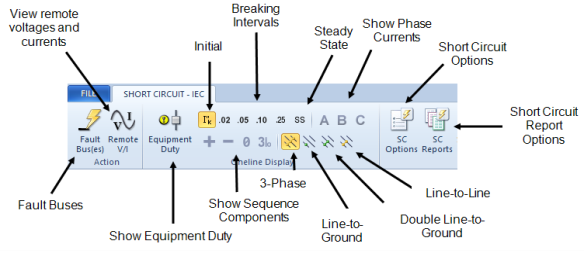 Figure 1-3: IEC Options in Short Circuit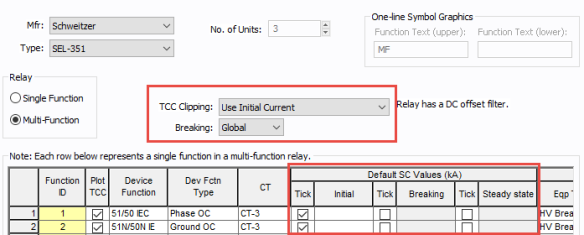 Figure 1-4: IEC Options in Relay Data
Custom One-line Text and Equipment Data
You now have much more control over the text that appears next to the equipment symbols on your one-lines. You can choose what equipment properties and text to use and the order in which it appears. Several options for text visibility are now controlled using the custom text feature. See Customizing the One-line Text for more information.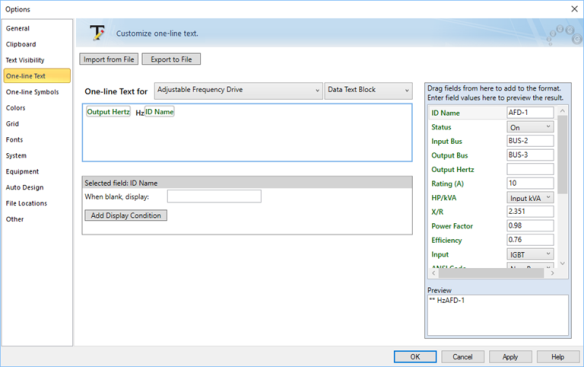 Figure 1-5: One-line Text Tab
Custom One-line Symbols
New templates have been added that enable you to manually adjust your equipment symbols using XML. You can use File Locations to control which templates are used for new one-lines. See Customizing One-line Symbols for more information.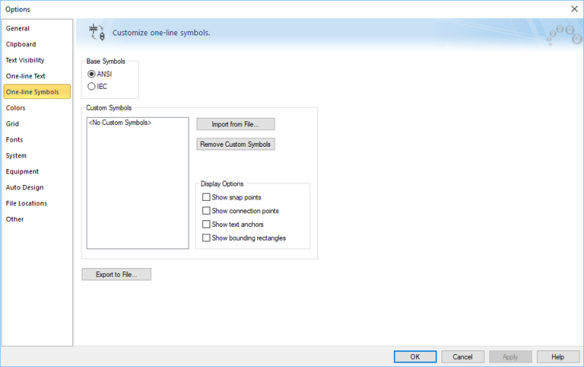 Figure 1-6: One-line Symbols Tab
OnSite Enhancements
We have made improvements to the process for importing OnSite files into EasyPower one-lines, including an improved one-line layout and better equipment matching.
2018 NFPA 70E
We have made updates to arc flash approach boundaries, PPE levels, and have added the ability to display incident energy in joules/cm2. The device library has been updated to reference the new 70E tables.
Chinese EasyPower Version
EasyPower is now available in a translated version for Chinese. Both the user interface and the product documentation have been translated. This effort paves the way for future language translations. Contact sales@easypower.com for more information.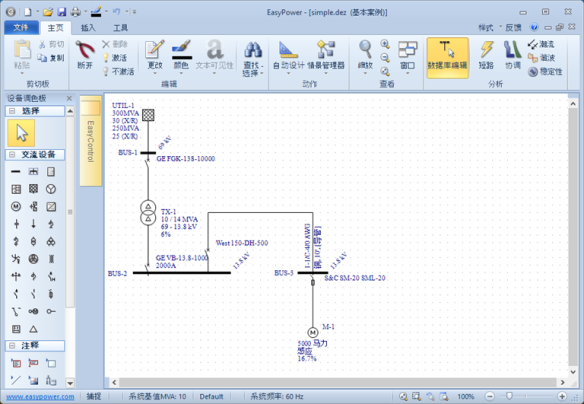 And much more!
For more details on the release, features, enhancements, and bug fix information, see the EasyPower 10.0 Release Details.
Note: New release features often include changes to the database. This may affect what you see in the Database Browser and also what is included when you export data into CSV files. If your existing work processes rely on information from the database, be sure to review your processes after you update your software.
10.0 SP2 Release Notes
Arc Flash
Fixed an issue where older .DEZ files that were opened in version 10.0 were not displaying arc flash results.
Coordination
Fixed an issue in Coordination where the ground curve did not display in the TCC plot when switching from 3-phase to single-line-to-ground faults.
Fixed an issue where fuse curves did not appear on a TCC plot.
Fixed an issue where one-line equipment for TCC printouts were left-aligned instead of centered when printing to PDF.
Fixed an issue where the Auto Coordination Phase Report did not show the correct original STPU settings on certain breakers after using the auto-coordinate feature.
Fixed an issue where closing the SmartPDC Report also closed the one-line.
Added a message that appears on the Auto Coordination reports when you attempt to auto coordinate SST devices with multiple long term delay curves, which are not currently supported.
Fixed an issue where stored TCC's lost their tick mark settings after closing and reopening the stored TCC.
Fixed an issue where certain breakers incorrectly displayed a straight curve on the TCC plot when the short time pickup was increased.
Fixed an issue where TCC curves were plotted for protective devices even though the plot TCC check box was not selected in the data dialog box.
Drawings
Fixed an issue where cable data did not appear in some drawings due to text visibility settings being applied incorrectly.
Fixed an issue where EasyPower reported an internal issue when you attempted to move a cable in a drawing.
Equipment Data
Fixed an issue where changes made in the elevation view of the MCC Data dialog box were not being displayed or saved.
Export to DXF
Fixed an issue where when exporting a drawing to DXF resulted in arrows for the current direction not being displayed.
Fixed an issue where exporting multiple drawings into a single DXF file caused the drawings to overlap.
Fixed an issue where exporting to DXF would cause EasyPower to stop responding when customized one-line text exceeded 100 characters or included more than 6 lines of text.
Harmonics
Restored the ability to see data on harmonics bar charts when hovering the pointer over the bar chart.
Imported Data
Fixed an issue where importing data when the import file had duplicate names caused EasyPower to close without completing the import. Now, it displays a warning message.
Fixed issue where EasyPower closed when attempting to import .CSV files due to ID names being truncated.
One-line Display and Printing
Fixed an issue where the number of phases and phasing data text for an ATS was displayed too closely to the equipment name.
Fixed an issue where text in an MCC symbol word-wraps when printing a one-line but not when viewing the one-line.
Performance
Fixed an issue where EasyPower experienced UI performance issues related to a Windows 10 update.
Program
Fixed an issue where missing image files caused EasyPower to close and then display a database error message after the .DEZ file was reopened and a copy/paste action was attempted.
Fixed an issue where EasyPower closed unexpectedly while saving the one-line due to the way a deleted temporary file was being handled.
Reports
Enhanced the Equipment Duty report to include Manufacturer and Type columns for buses.
Settings
Fixed an issue where the last stored database was not opened when the Reload database on startup option was selected.
Fixed an issue where EasyPower was not properly adjusting DPI scaling to match monitor settings when multiple monitors were being used.
Schedules
Fixed issues where Other Motor load values were not showing in customized schedules.
Short Circuit
Fixed an issue where system components that were disconnected and then reconnected prevented did not allow the Short Circuit focus to be opened due to an erroneously reported isolated system error.
Transient Motor Starting
Enhanced the descriptions for Transient Motor Starting functions in situations where the Dynamic Stability feature has not been purchased. Previously, Dynamic Stability terminology was used in the program, which could potentially create confusion.
Undo
Fixed an issue where disconnecting equipment and then undoing the disconnect would cause EasyPower to display an error after opening a drawing.
Fixed an issue where disconnecting a cable and then undoing the disconnect would cause EasyPower to stop responding.
Additional Release Information
Updating from Within EasyPower
If you have a stand-alone license (and not a network license), you can update your software from within EasyPower by selecting Tools > Update. If you are using a network license, you should use the manual update outlined below - download and then activate the software.
Activating Your New Software
Your authorization code has been sent to the registered user at your company. This code will be needed when downloading the update outside of the EasyPower software.
Installation Details
As mentioned above, you will need a serial number to download the update, and the authorization code to install the new version of the EasyPower software. Both of these were sent to the registered (primary) user at your company.
EasyPower updates are accessible to all EasyPower users with a current maintenance contract.
Please note the following comments associated with this release:
The EasyPower 10.0 program can be installed side-by-side with your existing version of EasyPower software.
It is advisable, as you transition to the new version, to always make a backup of your existing files prior to modification in the new version, or save your files with new file names after modification in the new version.
The EasyPower 10.0 program now uses an updated version of the device library which cannot be used by older EasyPower versions. The new library and other data files will be installed in a new location and new folder (My)Documents\EasyPower 10.0\. You can configure the new file locations in Tools > Options > File Locations.
Our software engineers are constantly working to provide you with up-to-the-minute technology. You can also go to Tools > Update and check for updates.
Files will be installed to the following locations:
Program: C:\Program Files (x86)\EasyPower 10.0
Application data: ...(My)Documents\EasyPower 10.0
Registry: HKEY_CURRENT_USER\Software\EasyPower\EasyPower
Important: If you are installing on a network, you must perform the server installation and activation BEFORE you install and activate EasyPower on your client computers.
Technical Assistance
Please call us at +1(503) 655-5059 option 3, or email support@easypower.com, if you need any assistance or have technical questions. To give us feedback on the EasyPower 10.0 release, please email feedback@easypower.com.
The EasyPower knowledge base has additional solutions to help you use EasyPower to solve your electrical problems.
Technical Help - Finding your serial number
You will need your serial number to log into the updates page. If you are not aware of your serial number, there are three ways to find it:
Look in your software - Go to File > About EasyPower.
Hardware key - look on the sticker attached to your USB hardware key.
Primary user - talk to the main EasyPower contact at your company. You will also need to talk to them to get your new authorization code.
Historical Release Notes
Here is a list of historical release notes as well as update details, for more recent versions.