Electrical Grounding Resource Center
Electrical Grounding and Related Topics
A grounding system analysis or study is the evaluation of the grounding system in meeting its design objectives. In the power industry, the primary focus is addressing the aspect of personnel and public safety. IEEE Std 80 provides guidance for safety related to grounding in AC substations. This standard highlights the dangerous conditions that may occur during a ground fault that can severely or fatally injure individuals in the area or in contact with metallic objects.
Featured Grounding Resources
Video of the Month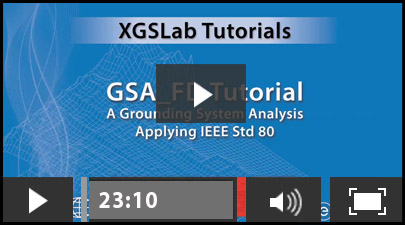 XGSLab GSA FD Tutorial - A Grounding System Analysis Applying IEEE Std 80
This video follows the XGSLab tutorial documentation for the GSA_FD module incorporating the IEEE Std 80-2013. In the tutorial, a substation grounding system is subjected to a fault and transfers the ground/earth potential rise to the connected steel factory grounding system. In the video we use the Soil Resistivity Analyzer to determine a soil model from Wenner resistivity measurements, then proceed to import our grounding systems for the substation, steel factory, and adjacent site entrance from an existing DXF. The fault current split tool is used to quickly determine fault split calculation, reducing the total fault contributing to the ground/earth ... Watch Video
GROUNDING ARTICLE
Soil Modeling and Soil Resistivity Interpretation
Soil modeling is an important step in the analysis of grounding systems as the soil affects the system impedance and the safety criteria used to assess grounding performance. Developing a soil model can be a simple task, given quality measurements and advanced tools, like Soil Resistivity Analyzer (SRA), to aid in interpretation of the measurements. Even with advanced tools, many measurements need more engineering judgment to make an adequate interpretation of the soil measurements. The goal is to develop an accurate soil model that provides an efficient grounding design to meet the tolerable voltage limits. This article focuses on the interpretation of soil resistivity measurements to determine a soil model and is a resource for engineers designing and analyzing grounding systems.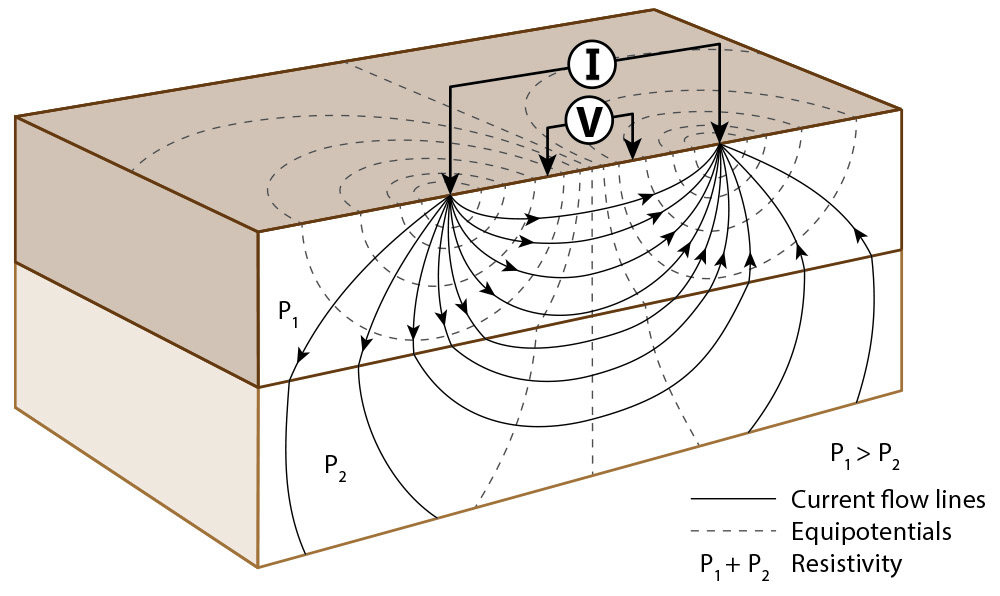 Soil Resistivity Data
As discussed in the Soil Resistivity and Field Testing article, those analyzing grounding systems are primarily concerned with the soil resistivity typically expressed in Ω-m. Soil resistivity measurements at several locations ... Read the full article
Learn More About Grounding
New - XGSLab and Grounding Analysis Course (Paid). This self-pace online class covers grounding system components, permissible voltage limits per IEEE Std 80, soil model development, fault current split, and more grounding analysis concepts to provide personnel and public safety at power systems. This course shows how to use the XGSLab® software to design and evaluate your grounding systems. The course includes 7 videos and 16 quizzes, takes 4-5 hours to finish, and offers 0.2 CEU credits (issued by IEEE). Info and registration
New - Quarterly Grounding Workshop. EasyPower is pleased to offer a new quarterly grounding workshop. This free two-hour workshop is given by David Lewis, an electrical engineer at EasyPower, and it provides an interactive demonstration for evaluating grounding systems to improve engineering tools and knowledge. Sign up for the next workshop here:
Wednesday, February 16, 2022. 8:00am to 10:00am - Pacific Time. Completed
Wednesday, May 18, 2022. 8:00am to 10:00am - Pacific Time. Completed
Wednesday, August 17, 2022. 8:00am to 10:00am - Pacific Time. Completed
Thursday, November 10, 2022. 8:00am to 10:00am - Pacific Time. Completed
Wednesday, February 15, 2023. 8:00am to 10:00am - Pacific Time. Register Now / Download Brochure
Additional Grounding Categories
All Grounding Resources