EasyPower Annual Maintenance
EasyPower Annual Maintenance is designed to keep you up to date with the latest releases of software and device libraries, as well as prompt and professional technical support.
Benefits of EasyPower Annual Maintenance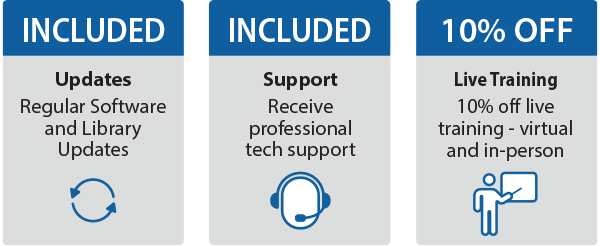 Regular Software Updates
EasyPower has consistently provided major program enhancements every 12 - 18 months. Other manufacturers often take 3+ years to introduce a major update. Current maintenance ensures you will have access to all program updates, as well as new version releases.
Regular Device Library Updates
EasyPower consistently adds to the largest device library in the industry, with 4 - 6 library updates each year.
Phone Technical Support
EasyPower provides experienced technical support with over 100 years of experience in solving system related problems. We often go beyond normal product support and provide detailed technical proofs, example problems, and sometimes even design changes to help our customers.
Email Technical Support
We also provide email support. Just send us your EasyPower file to support@easypower.com, and we can provide detailed help as we walk you through your system.
Training Discounts
Users on current maintenance are entitled to 10% on live training, both virtual and in-person.
Maintenance Cost
Annual maintenance costs 10% of software list price per year.