EasyPower™ Suites
The EasyPower product suite delivers a full lineup of powerful Windows®-based electrical software tools for intelligently designing, analyzing, and monitoring electrical power systems. With the fastest processing speeds on the market, EasyPower delivers instantaneous, accurate results to help you make more intelligent decisions. Watch this overview video to learn more.
Try EasyPower Today
Try a free demo copy today. You can also contact us if you have questions, to get a quote, or would like to schedule a one-on-one session with an application engineer, to help you get started with your EasyPower demo.
Configure EasyPower for the specific tasks you perform most, then add features as needed. It's completely customizable and scalable. Simply build your own configuration, based on the following modules, or choose one of our most popular suites.
Included Features
No matter which configuration of EasyPower power system software you choose, the productivity-accelerating features below are included at no additional charge.
Integrated One-line – model three-phase, single-phase and DC equipment on an integrated one-line diagram
ScenarioManager™ – model and analyze multiple power system scenarios to simulate the real world without excessive risk or expense
SendCAD™ – seamlessly export data to any spreadsheet and all CAD programs
MCC & Panel Schedules – log and analyze motor control center and panel data in a familiar spreadsheet format
SmartDuty™ – verify equipment duty settings for ANSI-standard compliance, complete with automatic highlighting of problem areas on the one-line
SmartBreaker™ – dynamically study switching conditions with single mouse clicks on the one-line
Custom Text Blocks - customize text that appears next to the equipment symbols on your one-lines
Custom One-line Symbols - customize equipment symbols shown on a one-line to meet your local standards or company preferences
Optional Features | Build Your Own Package
If one of our pre-configured electrical software suites doesn't meet your specific needs, build your own by selecting from a full menu of powerful options:
SmartDesign™ – automatically size equipment, such as feeders, breakers, switchgear, fuses, busway, MCCs, panels—and more—all per NEC requirements
SmartPDC™– completely simplify protective device coordination with one-touch automation
ArcFlash™ – confidently meet OSHA and NFPA 70E regulations and arc flash safety program requirements
ANSI ShortCircuit™ – instantly verify protective device and equipment ratings for ANSI, NEC and NFPA 70E compliance
IEC ShortCircuit™ – instantly verify protective device and equipment ratings for IEC 60909 standards and more – includes Impact Motor Starting
PowerFlow™ – intelligently optimize voltage, current, and load flows to minimize system downtime
PowerProtector™ Coordination – accurately ensure safety and reliability with comprehensive protective device coordination
Dynamic Stability – accurately simulate dynamic interaction between machines, networks, and protective device actions
Transient Motor Starting – precisely calculate starting times, speed, torque, system voltage drops, relay interactions, and more
Spectrum™ Harmonics – effortlessly identify and mitigate harmonic and power-quality problems
Revit® Integrator™ – an efficient bi-directional data integrator between Autodesk Revit and EasyPower
Power System Reliability – quantify the reliability and availability of their electrical power system networks
Coming: Change Management and SQL Database – seamlessly allow teams to manage changes to complex power system models
Popular Starter Suites | Add Features at Any Time
To accommodate our customers' most common requests, we offer these popular electrical software suites to get you started:
Suite #1 Protective Device Coordination
One-touch automation for detailed short-circuit analysis and PDC to enhance design and power system studies.

Suite #2 Arc Flash Hazard
Everything you need to create and implement a comprehensive and fully compliant arc flash safety program.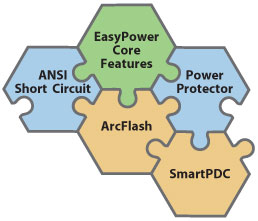 Suite #3 Automated Design
Perfect for design and consulting engineers; features one-touch automation that completely revolutionizes the entire design process.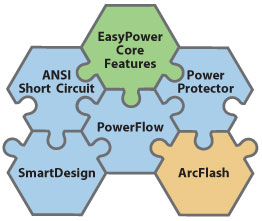 It is completely customizable and scalable. Simply choose one of our most popular configurations, or build your own. Some modules can be used stand-alone (blue below), while others require that they are paired with one or more additional modules (beige below).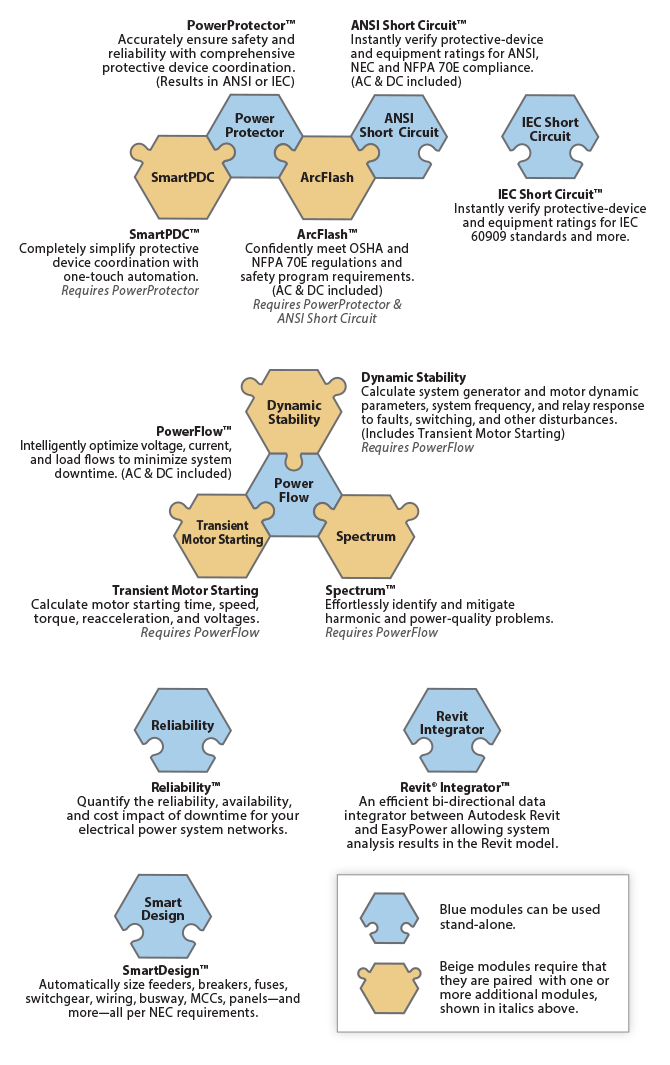 Supported Languages
EasyPower's native language support is English. The software is also available in Spanish and Chinese, although updates to these languages may not be available until after the English version is released. The software menus, dialog boxes, documentation and online help are supported in these languages. You can find instructions for installing additional languages here: Language installation instructions. The software also has online support documents available in Portuguese.
Licensing Options
EasyPower offers a wide variety of options when it comes to licensing the products:
Hardware License - this option uses a USB key that must be on the computer for the license to work. This allows the license to be passed around to different users as the needs change.
Software License - this option allows you to have a license without having to use a USB key attached to your computer. This option locks the license to one computer.
Network License - this option enables you to install the license on your network and access it from any workstation within your network, based on the number of licenses installed. This type of license can be accessed from anywhere in the world, with no geographical restrictions - some companies charge more the further you are from the license server, we don't.
Arc Flash Label Printer Bundles
EasyPower has partnered with Graphics Products to sell arc flash label printer bundles that include everything that you need to print and place your own labels. You can print to the Graphics Products Bronco printer directly, from within EasyPower's arc flash label design tool.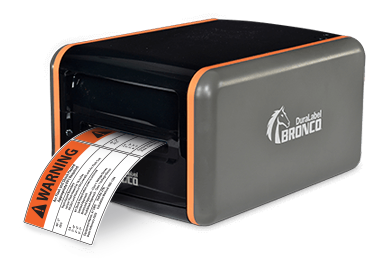 Learn More about EasyPower
Try Before You Buy
Download a free demo copy today. You can also contact us if you have questions or would like to schedule a one-on-one session with an application engineer, to help you get started with your EasyPower demo.