EasyPower Suites
The EasyPower product suite delivers a full lineup of powerful Windows®-based electrical software tools for intelligently designing, analyzing, and monitoring electrical power systems. With the fastest processing speeds on the market, EasyPower delivers instantaneous, accurate results to help you make more intelligent decisions. Watch this overview video to learn more.
Configure EasyPower for the specific tasks you perform most, then add features as needed. It's completely customizable and scalable. Simply choose one of our most popular suites, or build your own.
Popular Starter Suites | Add Features at Any Time
To accommodate our customers' most common requests, we offer these popular electrical software suites to get you started:
Suite #1 Protective Device Coordination
One-touch automation for detailed short-circuit analysis and PDC to enhance design and power system studies.

Suite #2 Arc Flash Hazard
Everything you need to create and implement a comprehensive and fully compliant arc flash safety program.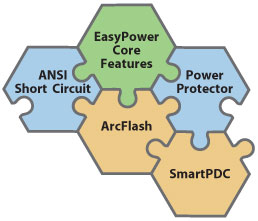 Suite #3 Automated Design
Perfect for design and consulting engineers; features one-touch automation that completely revolutionizes the entire design process.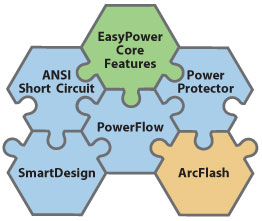 Included Features
No matter which configuration of EasyPower power system software you choose, the productivity-accelerating features below are included at no additional charge.
Integrated One-line – build comprehensive one-line diagrams with exclusive snap-and-drag technology
ScenarioManager™ – model and analyze multiple power system scenarios to simulate the real world without excessive risk or expense
SendCAD™ – seamlessly export data to any spreadsheet and all CAD programs
MCC & Panel Schedules – log and analyze motor control center and panel data in a familiar spreadsheet format
SmartDuty™ – verify equipment duty settings for ANSI-standard compliance, complete with automatic highlighting of problem areas on the one-line
SmartBreaker™ – dynamically study switching conditions with single mouse clicks on the one-line
Custom Text Blocks - Customize text that appears next to the equipment symbols on your one-lines
Custom One-line Symbols - Customize equipment symbols shown on a one-line to meet your local standards or company preferences
Optional Features | Build Your Own Package
If one of our pre-configured electrical software suites doesn't meet your specific needs, build your own by selecting from a full menu of powerful options:
It is completely customizable and scalable. Simply choose one of our most popular configurations, or build your own. Some modules can be used stand-alone (blue below), while others require that they are paired with one or more additional modules (beige below).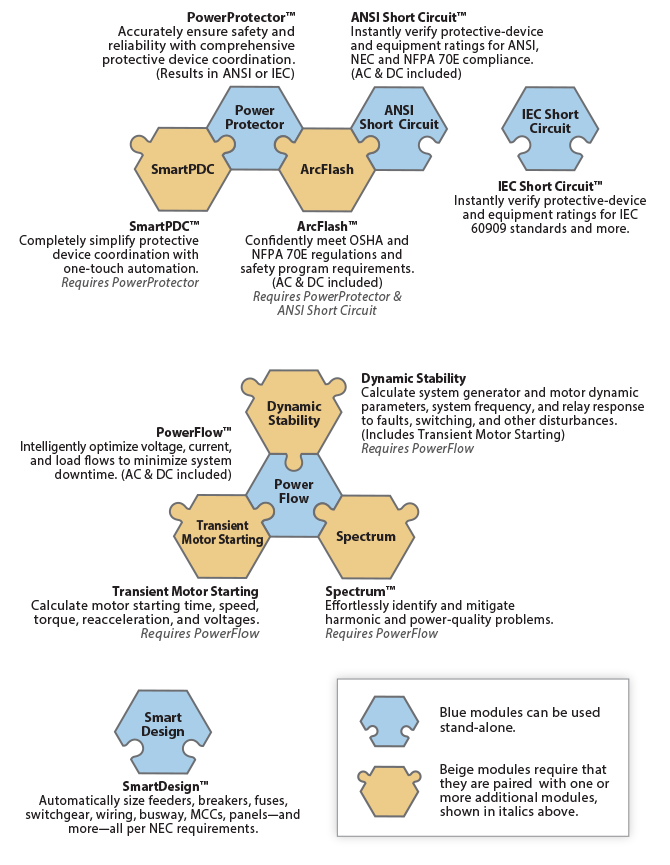 Learn More about EasyPower
Try Before You Buy
Download a free demo copy today. You can also contact us if you have questions or would like to schedule a one-on-one session with an application engineer, to help you get started with your EasyPower demo.