XGSLab™ Release History
Below you can find a history of the features and updates in the XGSLab software since early 2018. Go here for a more complete release history (XGSLab.com)
XGSLab Release 10.0.5
New SHIELD module for Lightning Protection Systems (LPS), which calculates the protected volume using the optional Electro-Geometric Model (EGM):

Rolling Sphere Method
Eriksson Method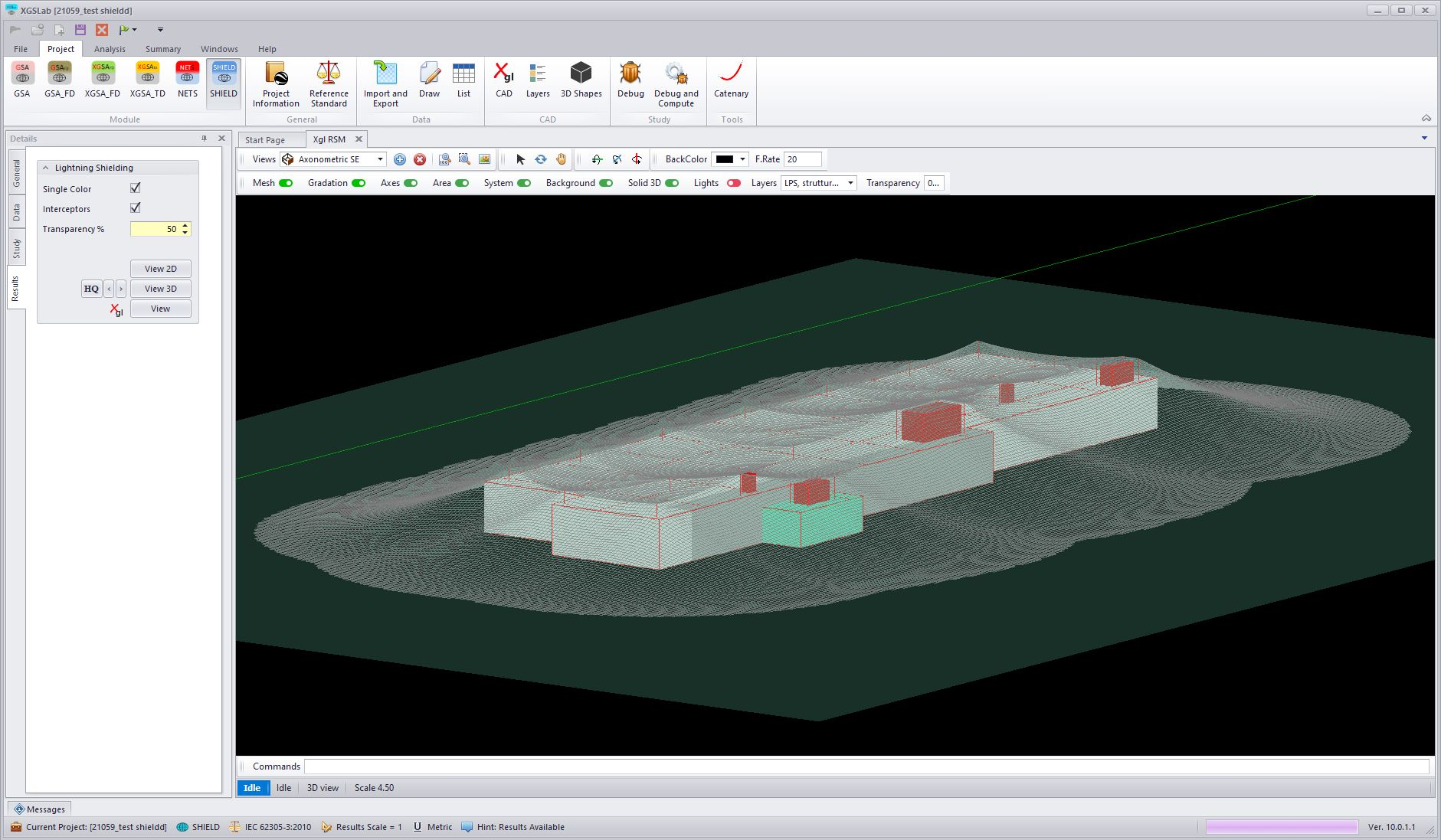 Introducing XGL CAD:

New 3D CAD for the SHIELD module
XGLViewer improvements

NETS Hybrid Cells to model cables, transmission lines, and conductors like pipelines in the same cell
Multi Zone Soil Model's new feature to place a zone land mark graphically
Seasonal Analyzer diffusivity can now be calculated using the frost depth of the soil
Improved calculation precision by including the third Sommerfeld integrals dW/dx
Fourier Analyzer allow arbitrary time samples to be imported from a list without the need to know the corresponding equation
New Area Calculation features allow magnetic and electric fields below the soil surface
Customized levels for touch voltages, step voltages, magnetic field, and electric field
Set the reference name at its creation
Merged conductor reference options allowing a customized list of references
Minor bugs fixed
XGSLab Release 9.6.1
February 2021
New 3D viewer, XGLView, for more advanced visualization of calculation results (implementation based on OpenGL, only x64 versions).

Implemented a new conductor library for setting electrode properties through library references.

Search, filter, add, and favorite common conductors in your library.

New drawing tools for GS modules:

Draw rectangle
Object snap on conductors intersections
Object snap on elements ends
Continuous conductor regardless of segmentation
Set transverse impedance to simulate infinite conductor length

Three windings transformers can now be considered in NETS.

Very long overhead lines can be computed in NETS.
Mutual impedances can now be set in Sources, longitudinal and transverse impedances, in NETS let users input known mutual coupling.
Reach distance available in GSA.
Minor bugs fixed.
Watch this video showing some of the updated features in the XGSLab 9.6 release.

XGSLab Release 9.5.1
July 2020
Implemented the new Seasonal Analysis tool, which considers the effects of seasonal temperature on the resistivity of the soil model. Users can evaluate their designs to verify compliance is met in winter, spring, and throughout the year.

Google Earth exportation for 3D system layout, 2D distributions, area calculation results for potential, magnetic field, and electric field to see your project in the world

New CSV export option for each distribution picture (except in TD). Now it is possible to export exactly what is plotted in the software, sorted exactly like in the software plot for 1D picture. For 2D and 3D each element is exported like a record with center point coordinates and related value
For each soil resistivity measurement, tags may be used to specify the corresponding traverse or area to which that measurement belongs
Step voltage calculation is now possible from steps 0.25 m (0.82021 ft) long
Dramatic reduction of time for generating touch voltage plots with "all elements" option active
3D picture generation is faster and includes two tiers of quality:

Default quality = just a few seconds needed
High quality = maximum of a few tens of seconds needed

New graphical features to edit the layout:

"Reverse" that inverts the orientation of one or more conductors
"Scale" that scales one or more conductors while keeping a definable base point as a reference
Reference points graphical definition

Improved user control in the connection options and features:

New group box in the data panel
New handling of "T" connections: the connection is detected if just the conductor touched in the middle is bare
New option that enables you to ignore all insulations in detecting the connections

Introduces the possibility to set connections that can be just theoretical (and not represented physically)
The word "Span" is now replaced by the word "Conductor" in the software terminology
Minor bugs have been fixed
XGSLab Release 9.4.1
March 2020
Implemented a complete compatibility with Imperial Units!
Improved earth potential area and line calculation performances. Reduction of time needed from 50% up to 80%!
Many new graphical interaction features:

Scroll in/out for 2D and 3D layout and for 2D and 3D distributions
Pan using mouse scroll for 2D and 3D layout and for 2D and 3D distributions
Zoom selected spans both from 2D and 3D layout and from list of spans

List of spans now exportable and importable in xml format
Last area and line calculation automatically saved in the folder of the project
External impedances and inputs now visible also 1D distributions
Minor bugs fixed
XGSLab Release 9.3.1
November 2019
Improved reach touch voltage
Argument plotting for normalized frequency spectrum in TD
Imperial units considered for dxf importation
New soil parameters frequency dependance model CIGRE TB 781
More intuitive representation of area and line calculation
Automatic layers number research
Improved scheduler with the option to program the starting of the calculations
Minor bugs fixed
XGSLab Release 9.2.1
September 2019
New tool for corona effect calculation for XGSA_FD
Reach touch voltage option now available for option "All elements" in FD modules
Custom levels for contour pictures introduced in the plot of earth surface potential in GSA, GSA_FD and XGSA_FD modules
Enlarged the frequency range in which the validity of the software is granted up to 100 MHz in GSA_FD, XGSA_FD and XGSA_TD modules
New distribution available: "Leakage Current on Small Holidays - Superficial" in GSA_FD and XGSA_FD modules
New default colour scales available for a quick customization of results outfit
Minor bugs fixed
XGSLab Release 9.1.1
June 2019
Improvement of NETS with Zig Zag Transformers, Pipe Type Cables and Connection Visualization
Improvement of Automatic Report
Introduced the possibility to divide spans into one single element also for FD and TD modules
New control in debug able to find missing connections in one electrode for FD and TD modules
New step by step analysis of debug in order to focus more easily the errors
New algorithm for 1D distributions able sort the spans considering their position, orientation and connections
Possibility to export frequency dependent impedances to EMTP®
New IEC/TS 60479-1:2018 implemented
New drawing tools like Array and Offset
Improved doubtful connection reliability
New levels of fragmentation introduced: "very high" and "very low"
Improved graphical output for 3D pictures with steep gradients
Minor bugs fixed
XGSLab Release 9.0.1
February 2019
New module NETS! a solver for full meshed multi-conductor and multi-phase networks taking into account all the neutral conductors paths as well as the earth path. Based on Kirchhoff laws for multi-conductor and multi-phase systems
Enhanced level of detail in post processing results: enabled the possibility to plot not only modulus but also real and imaginary part for scalar fields, real and imaginary part for each component for vector fields
New drawing features like "move" and "copy"
Introduced the possibility to interact with the background drawing it, keeping it as reference with object snap and deleting it graphically and/or from the dedicated table
Minor bugs fixed
XGSLab Release 8.3.2
January 2019
New scheduling feature that allows to run multiple calculations in series (>= Professional ver)
New layout parameters arrangement: origin + length, width and depth
New possibilty to export in dxf format contours obtained in area calculation
New graphical options for graduation of axis
New drawing options like "Rotation"
New suggestion for element fragmentation
Minor various improvements
Minor bugs fixed
XGSLab Release 8.3.1
April 2018
Enhanced calculation speed
Improved calculation stability
Improved calculation accuracy both with multilayer soil models and with soil multizone models
New graphical output "contours"
New graphical costumization by setting the number of levels in colours area graphical output
Many new graphical options for touch and step voltages area calculation results
New customizations options in impulse analyzer
New possibility to save and load area and line calculations. This feature is very useful also to fully use and appreciate the new XGSLab Viewer
Minor Bugs fixed
Go here for a more complete release history going back to September 2015. (XGSLab.com)