{tlp_page_title}
Electrical Grounding and Related Topics
A grounding system analysis or study is the evaluation of the grounding system in meeting its design objectives. In the power industry, the primary focus is addressing the aspect of personnel and public safety. IEEE Std 80 provides guidance for safety related to grounding in AC substations. This standard highlights the dangerous conditions that may occur during a ground fault that can severely or fatally injure individuals in the area or in contact with metallic objects.
Featured Grounding Resources
Video of the Month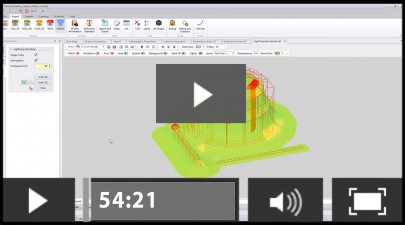 Save Time with Rolling Sphere Lightning Protection Designs
The Rolling Sphere Method (RSM) is a methodology that is used to calculate lightning protection of exposed structures. RSM calculates the amount of exposed structure, its distance from the point at which lightning strikes ... Watch Video
GROUNDING ARTICLE
Lightning Protection Systems
Lightning is a spectacular display of electrical forces in nature and easily recognized by the general public to be potentially hazardous. The detailed work engineers provide to design lightning safety for facilities and various structures may not be as easily recognized. The purpose of this article is to promote knowledge related to lightning protection and the study of a lightning protection systems (LPS). In this article we illustrate XGSLab SHIELD module's processes for evaluating an LPS.
Lightning Background
Within a cloud, electrostatic charge formation occurs resulting in electric fields that affects the electrical gradients of the Earth's surface. Hundreds of kV per meter produce step leaders typically ... Read the full article
Learn More About Grounding
New - XGSLab and Grounding Analysis Course (Paid). This self-pace online class covers grounding system components, permissible voltage limits per IEEE Std 80, soil model development, fault current split, and more grounding analysis concepts to provide personnel and public safety at power systems. This course shows how to use the XGSLab® software to design and evaluate your grounding systems. The course includes 7 videos and 16 quizzes, takes 4-5 hours to finish, and offers 0.2 CEU credits (issued by IEEE). Info and registration
New - Quarterly Grounding Workshop. EasyPower is pleased to offer a new quarterly grounding workshop. This free two-hour workshop is given by David Lewis, an electrical engineer at EasyPower, and it provides an interactive demonstration for evaluating grounding systems to improve engineering tools and knowledge. Sign up for the next workshop here:
Tuesday, November 2, 2021. 11:00am to 1:00pm - Eastern Time. Completed
Wednesday, February 16, 2022. 8:00am to 10:00am - Pacific Time. Completed
Wednesday, May 18, 2022. 8:00am to 10:00am - Pacific Time. Completed
Wednesday, August 17, 2022. 8:00am to 10:00am - Pacific Time. Register Now / Download Brochure
All Arc Flash Resources