{tlp_page_title}
Electrical Grounding and Related Topics
A grounding system analysis or study is the evaluation of the grounding system in meeting its design objectives. In the power industry, the primary focus is addressing the aspect of personnel and public safety. IEEE Std 80 provides guidance for safety related to grounding in AC substations. This standard highlights the dangerous conditions that may occur during a ground fault that can severely or fatally injure individuals in the area or in contact with metallic objects.
Featured Grounding Resources
Video of the Month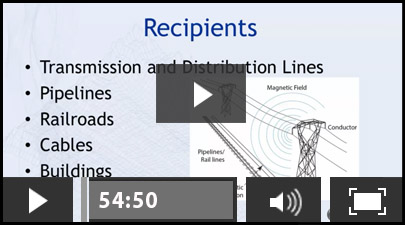 AC Interference in Shared Corridors
Increasingly, the electric power industry finds the need for rights-of-way that are either co-located or that cross other conductive facilities such as pipelines or railroads. High voltage AC transmission lines may affect adjacent facilities, which can possibly damage equipment, reduce the facilities longevity, and create hazards for the personnel and public. This webinar, given by David Lewis, P.E., an electrical engineer at EasyPower, explains how nearby facilities are affected by AC interference and provides guidance in the steps that engineers can take to accurately evaluate the complex challenges of AC interference using XGSA_FD. ... Watch Video
GROUNDING ARTICLE
Understanding NESC 5 mA Let-Go Shock Hazard
An advantage of using the alternating current in power systems around the world is the ability to transform voltage to transfer more energy farther with greater efficiency. The bulk electric grid consists of multiple high voltage transmission lines that provide power to substations where the voltages are reduced to distribution levels through a transformer. The electromagnetic fields (EMF) that allow the transformers to bring high voltage to distributions voltage levels are present throughout the whole of the line and may produce hazards on nearby recipient metallic objects.
Transmission Line Electromagnetic Fields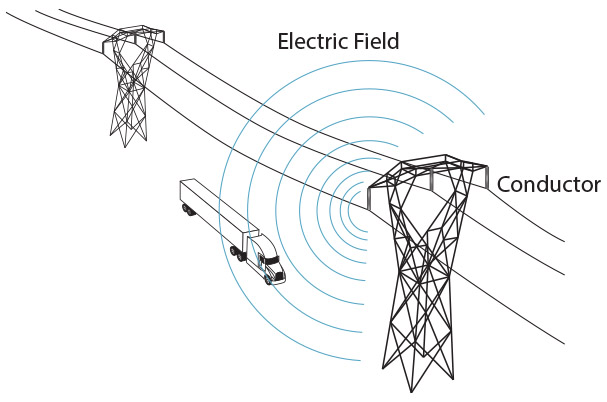 As illustrated, an individual may make contact with a capacitively energized truck, providing a path to ground through their hand and body. Depending on the magnitude of capacitive coupling, this current is perceptible... Read the full article
Learn More About Grounding
XGSLab and Grounding Analysis Course (Paid). This self-pace online class covers grounding system components, permissible voltage limits per IEEE Std 80, soil model development, fault current split, and more grounding analysis concepts to provide personnel and public safety at power systems. This course shows how to use the XGSLab® software to design and evaluate your grounding systems. The course includes 7 videos and 16 quizzes, takes 4-5 hours to finish, and offers 0.2 CEU credits (issued by IEEE). Info and registration
Quarterly Grounding Workshop. EasyPower is pleased to offer a new quarterly grounding workshop. This free two-hour workshop is given by David Lewis, an electrical engineer at EasyPower, and it provides an interactive demonstration for evaluating grounding systems to improve engineering tools and knowledge. Sign up for the next workshop here:
2023
Wednesday, August 16, 2023. 8:00am to 10:00am - Pacific Time - Completed
Wednesday, November 1, 2023. 8:00am to 10:00am - Pacific Time - Completed
2024
Try XGSLab Today
Try a free demo copy today. You can also contact us if you have questions, to get a quote, or would like to schedule a one-on-one session with an application engineer, to help you get started with your XGSLab demo.
All Arc Flash Resources