Not an EasyPower customer yet? Have product questions?
The EasyPower product suite delivers a full lineup of powerful Windows®-based electrical software tools for intelligently designing, analyzing, and monitoring electrical power systems. With the fastest processing speeds on the market, EasyPower delivers instantaneous, accurate results to help you make more intelligent decisions. EasyPower is the smart, fast and accurate solution for your arc flash hazard analysis software.
The Simple and Intelligent Power System Solution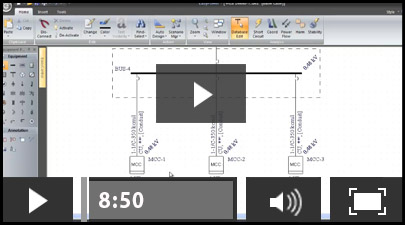 Downloading the Software
You can download the installation files from www.easypower.com/updates. Use the serial number sent to the registered user at your company to log in to the updates page and download the software update.
Weekly Webinars each Tuesday, Wednesday, and Thursday
EasyPower World 2014 was a great success!
The EasyPower World 2014 training/user conference was held in Portland on July 23-25. Attendees from around North America as well as 9 additional countries enjoyed the training, networking, social events, and interacting with EasyPower engineers. If you missed this years event, watch for the announcement of EasyPower World 2015!
Other training options:
EasyPower LLC has moved to a new office in Tualatin, Oregon!
We have outgrown the office we used for many years and have now moved to a beautiful new and larger office in Tualatin, Oregon. The phone numbers for our offices and technical support are the same, and this is our new address:
EasyPower LLC
7730 SW Mohawk St.
Tualatin
,
OR
97062
Phone:
503-655-5059